This is the whopping (5k words or so) piece I wrote at HFA about that film which was emblematic of the changed terrain that 30+ years of global terror(pun!)-forming neoliberalism has wrought. So on this my 44th birthday enjoy this stroll from Alien to the defeat by the Corporation.

Part 1. Born Slimy
The conversation always begins the same way, with the same expression on the interlocutor's face- neutral, yet tinges of uncertainty and a shadow of an imploring cast for understanding and companionship.'Have you seen Prometheus?' It's almost like the coded greeting of an underground resistance movement, because while on the surface they do mean it literally, the question and associated body language make it plain what they are also asking is-
Was it just me or was that a huge stinking pile of shit… and I so loved Alien, how can this be?
Well it's ok. Stand tall, stand proud, come out of your closets and declare unashamedly to the world –I saw Prometheus, and it was shit!
Alien was special, how was it special? Well let me tell you how the genesis of this saga began and then I can tell you how the Alien was finally defeated by the Corporation…
The 70's… and in the UK an elite informal group of hungry young filmmakers are cutting their teeth in advertising and becoming very wealthy as a result, Alan Parker, Adrian Lynne and Ridley Scott. As with all commercials directors they harbour the ambition to direct for the silver screen and the UK's film industry being no longer in the ascendant they looked westward, whoring for Hollywood being a higher calling than whoring for toothpaste. At this same time Dan O'Bannon had emerged with John Carpenter as an exciting new talent after their student film Dark Star was expanded and released into cinemas. O'Bannon had then written a treatment, expanded into a script, provisionally entitled Star Beast and it was being passed around production executives at 20th Century Fox, O'Bannon being new to Hollywood took a lot of interest in how a film of his script might be made and put a lot of work into preparing it for eventual production, thinking he may even direct it himself. In the UK, Ridley Scott with one movie under his belt (the nicely shot and mildly existential The Duellists) was looking for his bigger break, eager not to lose the competition amongst his peers of achieving big movie deals. He was not first choice to direct Alien and was unsure himself of making a sci-fi movie, but his fancy was tickled and he signed up. The next essential ingredient of Alien came about once development of the film was quite advanced, by and large what they had was a haunted house in space movie, albeit with some original touches courtesy of O'Bannon's admirable ambitions
"One thing that people are all disturbed about is sex… I said 'That's how I'm going to attack the audience; I'm going to attack them sexually. And I'm not going to go after the women in the audience, I'm going to attack the men. I am going to put in every image I can think of to make the men in the audience cross their legs. Homosexual oral rape, birth. The thing lays its eggs down your throat, the whole number.'"
Nevertheless it was still pretty well much just amounting to a big dark place with people being picked off one by one by a horrible mysterious killer. Both O'Bannon & Scott knew the difference between this being just another movie and it being something special was in how they brought this world to the screen. Together with producers Brandywine they recruited Ron Cobb, Chris Foss and briefly Jean 'Moebius' Giraud, whose initial space suit designs passed to costume designer John Mollo who had recently had great success with his work on Star Wars. Ah Star Wars, The Beatles to Alien's Rolling Stones, what Star Wars had done was up the ante both in financial and design terms for what an imaginative space movie could be. It also introduced to a wide audience a key idea innovation in speculative space design- the hardware was dirty. The future was lived in, the machines that could travel the starts were not as gleaming and utopian as before, they were grimy, industrial. This was a development of UK effects artists who had perfected their abilities on 2001: A Space Odyssey & Gerry Anderson's TV shows. It introduced an implicit element of dystopian scepticism, so that even with astonishing technology, the human future would be as rotten as their present (a cynicism of enlightenment progress when politics were stagnant with hegemonic corruption, discuss) [PS. pedants, yes I know Star Wars was set a long time ago, space travel of that ease is a science fiction staple, in our developmental & technological terms it represents futuristic dreams].
So they had some truly great world building and sizeable funds to realise it on film under accomplished art director Roger Christian who was another Star Wars alumni. Yet while they were whizzes at building the human world, the designers produced rather less inspiring drafts of what the alien star beast may be like, tentacles, ugliness, basically nothing you wouldn't expect slurping around the joint in any schlocky space horror movie. But O'Bannon owned a copy of Hans Rudolf Giger's The Necronomicon (1977) and had worked with him on an abortive version of Dune for director Alejandro Jodorowsky (as had Foss & Moebius), he passed the book of Giger's work to Scott and -particularly in Necronomicom IV- they knew instantly this was their alien designer. The studio were initially reluctant, they actually thought Giger was too horrific, for a horror film, (yes let that sink in). The creative team persisted and after winning over the producers at Brandywine they commissioned Giger and from that moment, the first truly interesting depiction of an alien aesthetic was possible.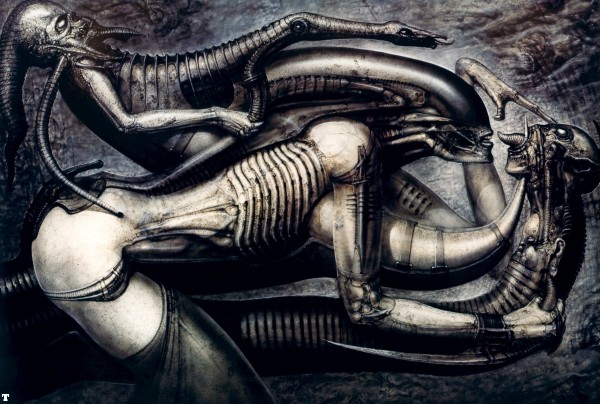 It is ultimately this alchemy that marks Alien as a noteworthy work of cinema, a Royal College of Art trained commercials directors with obsessive attention to detail and the quality of light within the scene, a writer from independent roots still fresh to the system and a Swiss artist flown in and amusing the film crew with daily deliveries of bones to his studio. And they were all hungry, they were all still to be subsumed by their respective establishments. To top it off they recast the role of Ripley from a man to a woman and with Sigourney Weaver's tenacious and emotive performance created an iconic heroine that is still a rarity.
There are many reasons why many different people like Alien, but they can write their own piece and bore you with it! For me it was that collision of a grimy downbeat industrial aesthetic, gothic horror, a squabbling crew replete with class issues performed naturalistically and …the pièce de résistance something truly other-worldly and incomprehensible rudely thrust into their lives. The poor human crew were raped to provide one stage of the aliens life cycle, its blood was deadly to human and machine, it seemed to kill for need and pleasure and as the medical officer Ash admitted-
"I admire its purity. A survivor… unclouded by conscience, remorse, or delusions of morality."
Giger had brought his sexualised biomechanical world to life and while it was predictably for a mainstream presentation within a horror context nevertheless it was exhilarating to see such bold design in what was ostensibly a big budget scary movie. Scott also masterfully allowed Giger to be the designer of the entire non-human world, and here we must make a distinction, Giger is sometimes called the designer of the alien elements, as if the ship, pilot (space jockey) and planet are connected, yes he designed them all, but their roots and relations are ambiguous. In one version the alien was found in a pyramid some distance away from the derelict ship. Overall let us remember- Giger realised the non-human elements, this does not mean they all must be closely or causally related, this matters when we get to Prometheus, where possibilities were ignored and the most obvious extrapolations were made in a teeth-grindingly dull fashion.
Oh and also, Jones the cat, a useful rule of thumb in fact for the Alien franchise is- the good ones have Jones the cat in them (Alien & Aliens)- the ones that don't (Alien3- has a dog so points for effort, albeit the entirely wrong species of furry critter, an error emblematic of that rushed and troubled production. Alien Resurrection, Alien vs. The Need For A Studio Franchise To Be Exploited Remorselessly and…Prometheus) are of interest, but don't hold your breath. In fact to emphasise how important Jones the cat is, you may read My Day by Jones: A Cat's-Eye View of Alien by the excellent Anne Billson in an ebook here. Ok, so we're clear on this? Cats are important and are good. Prometheus has no cats, that is a bad sign.
And so let's whizz through a few decades now as Scott becomes a pillar of the movie-making establishment and periodically produces great cinema (Blade Runner being another design landmark, Thelma & Louise- a Butch & Sundance aware of feminism, Gladiator- an audience pleasing epic of heroism and Black Hawk Down- the war film as fever dream of failing empire). O'Bannon gets some more scripts produced and directs a couple of horror flicks. Giger continues to cement his reputation for horribly sexy surrealism and is occasionally asked by popstars and film studios to add some spice to a project.
Meanwhile…the fictional universe they created continues to fascinate cineastes despite increasingly insipid iterations. Reboot & Prequel became the franchise reviving ploys of the Return On Investment class and somewhere on TV a plane crashes into a mysterious island and births a sci-fi soap opera…
Part 2. Franchise, Wealth & Success
1979 >> Fast Forward >> Alien becomes a franchise, Aliens expands and continues the story admirably, making a combat film of exhilaration and terror. There ends the serious entries – remember the cat rule! – in the story. The rest, while of interest, are not of the same calibre – and once the Alien was vs things (I'm not saying it) it was a schlocky joke for late night popcorn eating. It is this unwieldy corporate property that now wanders the cultural landscape, the unintended consequence of an act of creation, as dangerous as any monster from the Baron's laboratory. Scott perhaps wanted to rescue his legacy from this, perhaps in a way he saw returning to the Alien universe as a way to reconnect with his youth. Prometheus is a signifier of a great many emotional and psychological needs of the makers, all of which sit uneasily together in a fragmenting mess finally sank by a script that…well Ridley should have known better.
"And now, once again, I bid my hideous progeny go forth and prosper. I have an affection for it, for it was the offspring of happy days, when death and grief were but words, which found no true echo in my heart."
- Mary Wollstonecraft Shelley
Let's get to the positives first. Prometheus is well shot, it has high production values, it has a great cast in Noomi Rapace and Michael Fassbender, though less in other departments (you know who you are!), while it wastes the godlike Benedict Wong (@wongrel for he is Errol) and Kate Dickie (so good in Red Road). The design of the spaceship Prometheus is splendid, the space suits, gadgets and vehicles less so, but you could tell they spent money on them, so there's that. I suppose.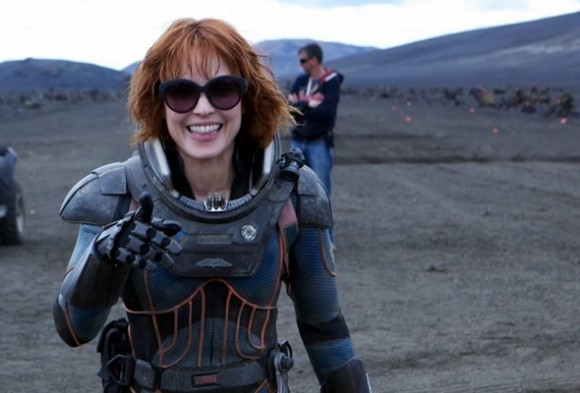 However…
The profound sign things had taken a turn for the prosaic was when rumours from the set revealed the pilot/space jockey was no longer a biomechanoid organism (or organ) that had seemed to grow out of the vehicle it was in, as it was in Alien. As if it might simply be a specialised part of a living organism that functioned as a transport device, or a donor being to a Leviathan of the stars. No, when in doubt, they plumped for the least interesting least challenging alteration to Alien lore: in Prometheus the pilot/space jockey was actually…drum roll… a big humanoid in a spacesuit! (Now this is important in genre terms: historically science fiction has always suffered in cinema and TV because alien lifeforms for reasons of practicality/budget have to pretty well much be a person in make-up, a suit or a puppet of some nature. Admittedly the Giger xenomorph in Alien was a very tall thin guy in a suit, but the gestalt of tubes, mandibles and a sexualised smooth eyeless headpiece offset the limitations thrillingly. So with CGI and puppet technology advanced so much by 2011, they went for… a man in a suit, like the cheapest Dr Who episode you can imagine. So the possibilities of an Alien ecosystem, an incomprehensible vehicle and technology, became… a bloke in suit, albeit big and bald in a rubber muscle costume with some touches of biomechanoid suit cos hey, why not? A facile design cue to associate with the biomechanoid brand, like a Nike swoosh that winks – Wooh Giger, remember that freaky shit?)
This indicated a profound lack of ambition in the project. While wishing to examine the origins of human life on Earth may seem ambitious, once it was tied to ancient astronaut theory and Scott cited Erich von Däniken, faces were palmed globally. At a time when an assertive skeptic movement is growing worldwide (and finding its feet as it suffers through birth pangs of arrogance, bigotry and misogyny) to have a supposedly zeitgeist capturing science fiction film fall back on the most laughable theories of the 70's was a disappointment to say the least… Not that exogenesis is scientifically implausible, but ancient carvings showing spacemen is. (Religions & human vanity may wish it otherwise but life on Earth may very well have begun with the equivalent of a syphilis virus hitchhiking here on an asteroid, perhaps if we were to meet our maker we will be disappointed to learn we are as valued as cancer).
Nevertheless, let's keep an open mind. This film purports to occur at a time before Alien was set, just ignore the better technology of the Prometheus as compared to the Nostromo, explained to an uncritical fanbase as – "well it's a top of the line corporate ship not an old freighter". (Another example of the creative team taking easy options over new challenges, it would have been a design challenge to see them pull off tech that was exciting to a 2012 audience but also retained a continuity to the fictional word.) Prometheus was a prequel of sorts, and by the time the almost daily rewritten scripted (a rumour) feature film Prometheus reached us, it was retaining 'Alien DNA' but was not a prequel per se. I was eager to see it. (At this point can I just say how wonderful it is to have a decaying local cinema, the Empire Holyhead, that only charges £2.50 as a Monday & Thursday special, you feel so less cheated as you walk out … even if the carpet is home to substances far nastier than any engineer goo.)
Prometheus as a cultural artefact does hold great fascination and meaning, but as a movie experience it's like a fart in a spacesuit. This film told us a great many things about the context of its production and the state of a certain type of filmmaking. It was also, I believe, a far more personal statement by Ridley Scott than has hitherto been explored. For an old man – Scott is 75 this month – to return to his most famous early work was always a risky endeavour. Once again the obscure relationship between the Alien and the Star Wars franchises should have been a warning, two words Ridders – Phantom Menace. Yet Scott always had something interesting to bring to the table, his darkness of disposition and visual sense would guarantee something worth seeing, and it has, but…
One of the themes of Prometheus is the deposing of power, the shattering of illusions. Weyland is a dying old man who seeks a way to avoid death, Shaw is a theist who seeks an answer to who made life in the universe (her partner, for some inexplicable reason, is a an alcohol abusing immature frat boy with zero mission safety skills, but don't worry we'll get to that). David, likewise as the artificial life-form, represents man acting as creator. That he betrays his makers and seems far more enamoured of the Engineers could have been better explored, but nonetheless it had a nice whiff of the panic heresy inculcates in the faithful. He chooses to reject his creator, free will within artificial intelligence, while the humans slavishly agonise over their origins. You can almost regard Prometheus as Ridley Scott's Jurassic Park, bleaker, more viscous but some similar mainstream Hollywood level of discourse over creation and human ethics. It's just, well, Alien hinted at more than that, Scott is smarter than that.
But…
Scott is also a businessman, a role he stressed during promotion. He tried for the toughest film he could get while still ensuring it could be seen by young teenagers in most territories. This alone is cause for some rising bile among Alien lovers: Alien for its time was in the upper reaches of what could be shown on screen in terms of violence, Prometheus is happy to occupy a common mainstream band where violence can be shown but the consequences of violence is far too grown up for the target demographic. Every King has his day is a theme, as the Weyland familial dynamic replays King Lear,  the theme of supremacy being overthrown. It is hard not to see Scott has admirably reflected on this and his own position within cinema mediated through Prometheus, yet such mature and thoughts of mortality again are mishandled in the muddled script.
Bear With Me…
Ok, I'm getting to it… look, the direction was proficient and expert but not mould breaking or inspired. Ridley must know his age is now weighing upon him, he said he'd used every trick in the book to bring scares to the audience, but we wanted something more than tricks learnt in Hollywood. The design is proficient, it is an A list blockbuster, but again uninspired especially in its depiction of non-human elements. They kept touches of Giger yet lacked another artist of his originality to come in and give the audience something truly alien to marvel at. The cast was pricey though most had little to do with very poor lines. Ok, ok I've pretty well much got there… it's the script, apparently from an idea Scott discussed and redrafted many times before the Spaihts Lindelof version came to screen. So meet Damon Lindelof, the real villain of this piece.
Part 3. Lost in Space
Damon Lindelof showed with Lost, that, like his colleague JJ Abrams, he could produce exciting genre TV that promised much, but relied on a lot of sound and fury to distract you from the lack of delivery. It's all feedline and no punchline, seduction without consummation. Highly skilled at navigating the contemporary corporate screenwriting and producing business, both Lindelof and Abrams are in the advertising more than in writing, it is about inculcating desire and then satiating it with their product. But as with most popular consumables, the walk falls short of the talk. Both authors became creatively impotent in an arena where – structurally – that was admittedly the professionally wise outcome.
Where Lost could have tackled some challenging intersections of Quantum Theory and philosophy, it instead ran for the easy answers of cod spirituality and white light. If anything, this dénouement showed that if you hire Lindelof, you sure as hell hire someone else to write the third act – because all he can do is set you up nicely, without any idea of how to realise the potential he plays with. He also does not seem to be able to differentiate between profound questions and banal ones, as if the morality of creation sits comfortably with a soap opera level of manipulative (and ultimately pointless) shock reveal: zOMG she's Weyland's daughter ! Could one of the most famous billionaires ever, managed to keep it a secret that his CEO in waiting was not a blood relative?*
Moving on…there are numerous fault-finding reviews on the web, GIYF. I am not here to overly engage in pedantic nit picking and I will allow a story leeway if it operates at an intelligent and creative level. Prometheus' script did neither. From big men in suits to the plot-rescuing black goo whose function was entirely about how the writers needed to progress to the next scene. Indeed it seems most of the more tedious soap opera elements were Lindelof's, but even so, the overall story of the Pilots/space jockeys being creators of humanity and xenomorph technology is an entirely facile and arrogant expression of human vanity (of course this story is all about us, … yes out of that huge universe the alien stuff we come across is intimately related to us). It's Orientalism of a cosmic scale. And that's before the excised story elements, such as: – in one version Jesus Christ (of Christian Religion fame) was an Engineer, and humans crucifying him was the cause of the Engineers planning to head to Earth to drop goo bombs … a plan interrupted when their own biological weapons health and safety procedures turned out to be as lax as the Prometheus' crews mission safety protocols.
So at least in that way the script is consistent, the Engineers were fuckwits and so were the humans, I'll give them that. I suspect rumours of the script being rewritten on the fly are true, this accounts for much of the messy story telling. Why leave a map to your arms factory? If they were going to lay a trap you wouldn't do it at the industrial park where your WMD manufacturing was based, it would be more Apple store than Foxconn, you get me??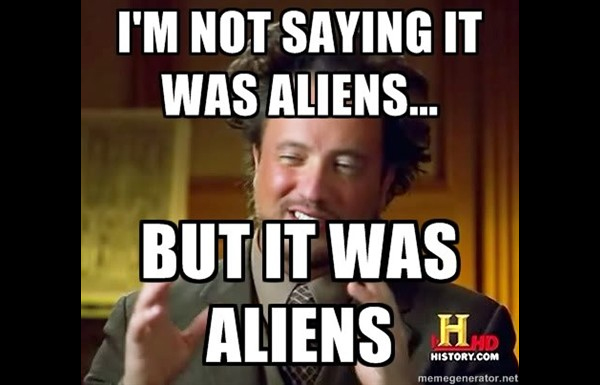 Did you hear about the actress who was so stupid she slept with a screenwriter to get ahead?
Writers have little power in Hollywood, even celebrity ones like Lindelof. But as Scott was the director and the executive producer, and could pick who he liked, Lindelof had freedom to spread his half-arsed unfinished ideas around and Ridley was too long in the system to spot what a load of old codswallop it was. Thus we finally get to the point of how the corporation defeated the Alien.
Throughout the franchise there has been a basic tension between the ethics of corporate expropriation of resources and the ethics of not being raped and killed by slimy monsters. It was made explicit in Cameron's Aliens, as Ripley exclaimed to Burke - You know, Burke, I don't know which species is worse. You don't see them fucking each other over for a goddamn percentage. - after they found out he planned to allow the crew to be used as living incubators in order to ship the organism home for weapons research.
When Alien was made, 20th Century Fox was a big moviemaking corporation that could still feel the tradition of the studio system in its bones. By the time of Prometheus is was owned by Rupert Murdoch as a subsidiary of News International and – as with the other studios – they became divisions of huge multinationals. The studios' function became content creation for the other divisions, to use in their hardware, playstations, TVs and 3D Blu-ray players. In the process the system of filmmaking has become entirely marketing-led; few risks are taken and non-creative people are neutering the small opportunities for genuinely transgressive cinema to emerge. Over the intervening three decades between the films, the production have become less Ripley and more Weyland-Yutani.
This time their arrogance lead them to abandon the alien mystery of the origins of one of their bigger franchise earners and in the process displayed that this content creation system is now almost entirely incapable of producing intelligent creative cinema. That even someone with the power and demonstrable talent as Ridley Scott can fall prey to this homogenised business of show.
Maybe then that is the central fascinating horror of Prometheus and what makes it so frustrating: you can see actually talented people choosing at almost every opportunity to do the least risky, clever or creative thing. Like the eternal viewer shouting at the dumb character who ventures alone into the dark foreboding cellar, the unrelentingly stupid nature of Prometheus makes it an effective horror movie insomuch as it is really scary to think that at some point, seduced by the fictional Alien universe, I will watch it again. I know it will still be shit and I will be annoyed, but…somewhere is a tiny sliver of something that could have been good. It's just a damn pity Scott failed to see that Lindelof was burying it in a huge pile of banal clichéd shite.
* I will concede this point if we find out that Lady Gaga is really Steve Jobs' long lost daughter.
Epilogue
Call me Ridley, we can turn this ship around: there remains a slim hope this might be rescued – a follow up to Prometheus is planned. You could pretty well much dump most of Prometheus and concentrate on Shaw and David, what they find, and what that can lead to, or be shared, with other explorers. It does not have to be engineers in biomechanoid suits – that could just have been one species that shared a design and technology with something else – a something that is a terrible and cruel creator of genetic technology.
Imagine that all we saw in Prometheus was one race of explorers who mimicked the tech they discovered. We know there was a dollop of Lovecraft's existential dread of the extinction of the human soul, of evolution degenerating, of a future where the best we could hope for was a relatively painless extermination. If you want to make a horror film that honours Alien, it has to be smart, avant garde and disturbing in a very primal way (the ship's captain standing during landing, as if G-forces are little more than a difficult surfing, will not fly). Terror is knowing that even the smartest people will be defeated, that there is no getting out of it, that intellect and morality, bravery and compassion, ruthlessness and ambition will matter not one jot. It is just a matter of how to cope with your relentlessly approaching, pain filled, vanity shattering, dignity stripping annihilation.
I guarantee that if you hire me, at least ten percent of the audience will be driven to insanity  – or your money back! And there'll be a cat in it.